St Thomas Airport Transportation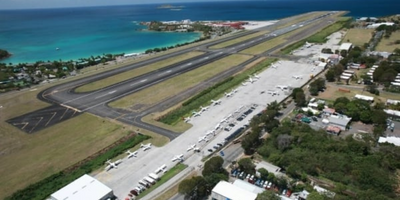 Traveling overseas, even to a US territory, can be nerve-wracking, exhausting, and stressful. From not knowing what you'll need to travel with to uncertainties about your destination, the overall nature of travel can be taxing. The last thing anyone wants is to worry about dependable, safe, comfortable, and, most importantly, punctual transportation. With STT LIMOS, you don't have to fret about St. Thomas Airport Transportation! Our luxurious vehicles and experienced, professional drivers will be there before you land, ensuring no wait time for your transportation. They will assist you with your baggage and provide you with a safe and comfortable ride to your destination!
Why Choose STTLimo for Your Airport Transportation Needs?
Our skilled chauffeurs know St. Thomas. They will greet you with a smile, help you with your bags, and assure a safe travel to your destination.
Airport transfers require promptness. STTLimo is timely and efficient. At the meeting place, our chauffeurs will take you to your destination quickly.
Our luxurious fleet lets you travel in luxury and comfort. We provide cars, SUVs, and vans for lone travelers, families, and bigger groups. We thoroughly maintain our automobiles for a comfortable travel.
STTLimo makes St. Thomas airport transportation easy. Call or visit our website to make a reservation with our courteous staff. Our crew is ready 24/7 to answer questions and make schedule modifications.
Safety comes first. To guarantee safety, our vehicles have the newest technology and features. Relax, STTLimo will bring you there securely.
We think everyone deserves good airport transportation. STTLimo offers low pricing without sacrificing quality. Enjoy our affordable airport transfers.
Why You Must Hire Airport Transportation in St Thomas?
Convenience: Airport transportation offers a hassle-free way to travel, with professional drivers ready to pick you up or drop you off at specified times.
Time-saving: Experienced drivers navigate efficiently through local roads and traffic, saving you valuable time by choosing the most efficient routes.
Reliable and punctual service: Reputable airport transportation services prioritize punctuality, ensuring your driver arrives promptly and gets you to the airport on time.
Safety: Trusted services maintain well-maintained vehicles and employ licensed, experienced drivers, providing a safe travel experience.
Comfort: Airport transportation offers comfortable vehicles, including luxury sedans or SUVs, allowing you to relax after a long flight.
Local expertise: Local drivers offer valuable insights and recommendations about St. Thomas, enhancing your experience with their knowledge of the area.
Stress-free travel: Hiring airport transportation eliminates the stress and uncertainties of finding transportation, providing a reliable and dedicated service for your travel needs.
Book Your St. Thomas Airport Transportation with STTLimo Today!
Let STTLimo get you off to a good start in St. Thomas or wherever you're headed. The quality of our service, our expertise, and the happiness of our clients are what set us apart. Rest assured that your airport transportation will go off without a hitch with us. To make the most of your time in St. Thomas, schedule a transfer to and from the airport with us today by calling or visiting our website.
Explore the Island with Best St Thomas Shuttle
Stt Limo is one of the leading Car Rental Services for Airport in St Thomas. With just one call you can get the experience of best St Thomas Airport Shuttle.
St Thomas is the place known for the hospitality and who can better in facilitating with the best Airport Transportation in St Thomas than Stt Limo.

FAQs about St Thomas Airport Transportation:
What is St. Thomas Airport Transportation?
St. Thomas Airport Transportation is a service providing travel to and from the Cyril E. King Airport on St. Thomas Island in the US Virgin Islands.
How can I book St. Thomas Airport Transportation?
You can conveniently book these services online through providers' websites or by contacting them by phone. Many allow advance reservations. You can book your ride on STT Limo instantly.
What types of transportation are available at St. Thomas Airport?
St. Thomas Airport offers various transportation options, including airport shuttles, taxis, private car services, and rental cars.
How far is the airport from popular destinations in St. Thomas?
The distance between the airport and popular destinations varies. It's recommended to check with your chosen transportation provider for specific travel times to your destination.
Are airport transportation services reliable and safe in St. Thomas?
Generally, St. Thomas airport transportation services are known for their reliability and safety. However, it's important to choose reputable providers and consider reading reviews if you have any concerns.
Can I book transportation for a large group or family?
Yes, STT Limo offer options suitable for large groups or families. Advance arrangements may be needed to accommodate your group comfortably.
Is it customary to tip drivers in St. Thomas?
Yes, tipping is customary in St. Thomas. It's appreciated to tip your driver, but the amount may vary depending on the service and your level of satisfaction.
What should I do if my flight is delayed or arrives early?
Reputable transportation providers like STT Limo often monitor your flight's status and adjust the pickup time accordingly. If your flight arrives early or is delayed, you can contact your provider to discuss the situation and coordinate accordingly.
Can I request a specific type of vehicle for transportation?
Yes, many transportation services such as STT Limo allows you to request a specific type of vehicle, such as a sedan, SUV, or van, based on your needs and the size of your group.
10. Are there any additional fees or charges for airport transportation in St. Thomas?
It's a good practice to inquire about any additional fees or charges, such as airport surcharges or gratuity, when booking your transportation to ensure transparency and avoid unexpected costs.